Markazul Ma'arif has formulated a scheme of Job Oriented Training Courses
(Deen Dayal Upadhaya Grameen Koushalaya Yojana)
Markazul Ma'arif has been running a project which is a market led, placement-linked training programme for the rural youths  in the age group of 18-35 years. The project is named after "Pandit Deen Dayal Upadhaya" and is in-short known as DDU-GKY and is sponsored by MoRD, Govt. of India. The candidates belonging to BPL families are entitled to avail this training program for free which includes study material, food and lodging. Since Markazul Maárif is assigned to train candidates only from Nagaon, Morigaon, Karbi Anglong, Barpeta, Dhubri & Goalpara districts of Assam, candidates belonging to these six districts only can avail the facility. It is a three months residential training program which is followed by a certification exam conducted by NCVT. On successful completion of the training program the candidates are awarded placements (job) in various fields such as Hospitals, BPO's, Hotels etc. At present Markazul Maárif is providing training only in Health care sector (Bed Side Assistant) and Voice BPO as the training target for the other sectors has been achieved. Know more
Glimpses of DDU-GKY Programme
E-District is one of the 27th MMP (Mission Mode Project) under NeGP with the Department of Electronic & Information Technology, Govt of India being the nodal ministry. This project aims to provide the support to District Administration of the state by doing backend computerization to enable electronic delivery of G2C services to the common citizens ensuring efficiency, transparency & reliability of such services in their locality/doorstep. Markazul Maarif is the Hojai district HP certified E-District training centre. This Centre has already trained 40 govt. employees of this district.
Ajmal Rural Technology & Demonstration Centre (ARTDC ) is an Industrial Training Centre in the North Eastern Region of India, conducting both NCVT courses & employment oriented short term private courses as per demand of the present Job market. Since its establishment (April 2010) more than 2000 unemployed youths (including Security Guard) have been trained of which more than 80% are now employed in India and abroad and rest 20% are self employed. Markazul Ma'arif has formulated a scheme of Job Oriented Training Courses for the unemployed youths to tackle the ever-increasing problems of unemployment. Know more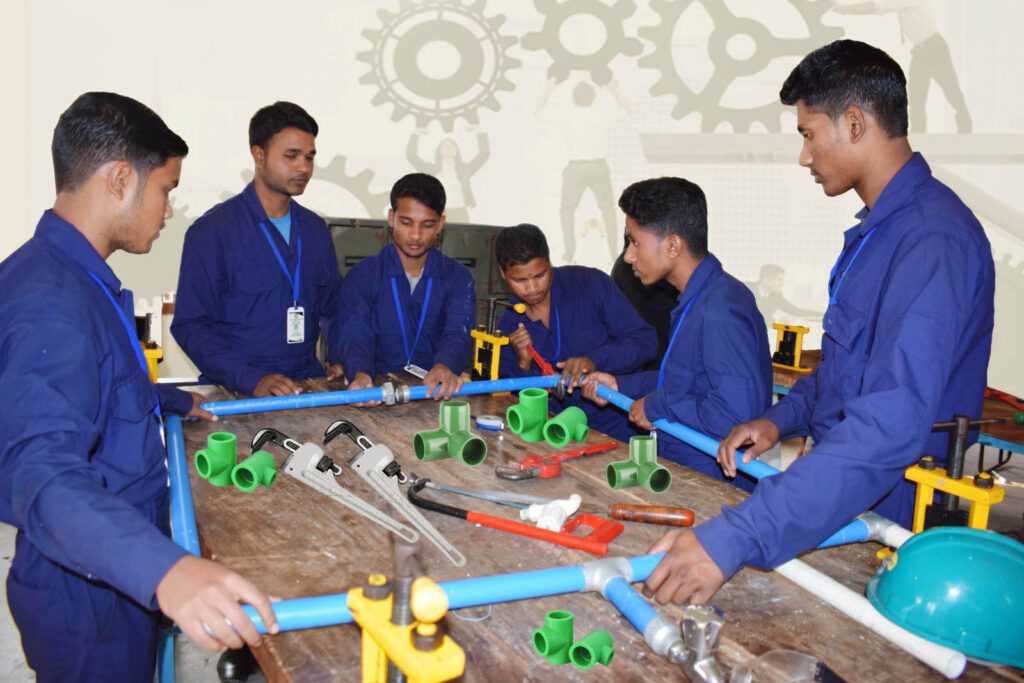 The courses are in the following branches.
It organizes Training Camps, Seminars and Symposium in rural as well urban areas of northeast region of India. The organization also helps in providing suitable placements for candidates who have gone through the training courses.
Ajmal Culinary Academy is an innovative idea and the ambitions project is a brainchild of Mohammad Sirajuddin Ajmal, Hon'ble Patron, Markazul Ma'arif. He encouraged Markazul Ma'arif to initiate such skill development project which can take advantage of the job opportunities in the lucrative food industry. In this course, the trainees will learn about different types of meals used in industry, adopt different profiles, dress codes and attributes of a cook and identifies also learn to equipment, glassware, tableware, cutlery/crockery and other equipment. They will be taught to use various modern cookery, acquire skills, attitude and behavior required in the kitchen. They will be taught the usage of Kitchen Equipments, Tools, Utensils, Food Processor, preparing various types of sumptuous food that satisfy consumers of different regional countries. will be taught to cater to the taste buds of oriental customers and for western guests/customers
Glimpses of the programme