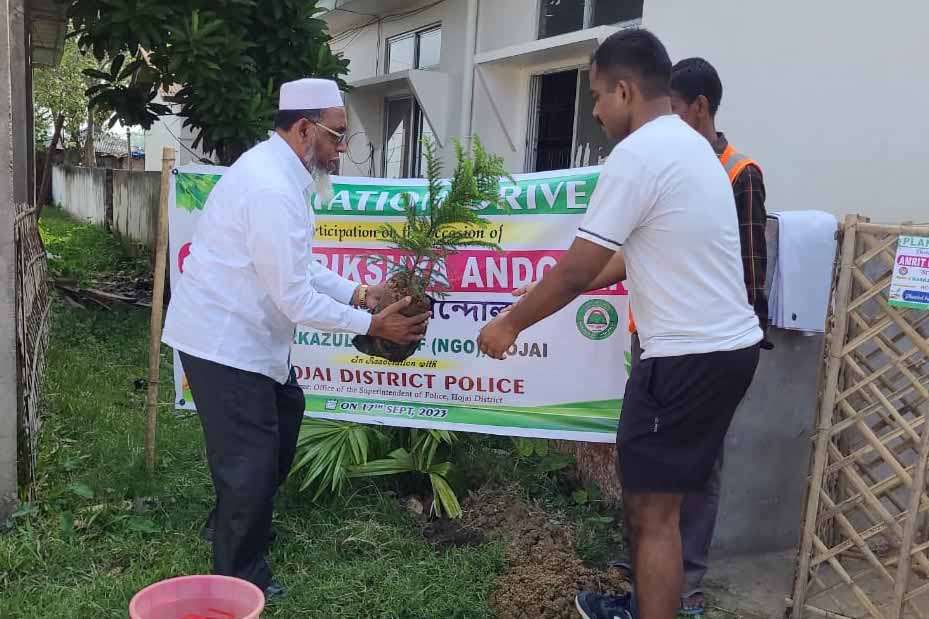 Hojai, Sep 17: Markaz Academy English HS School, Hojai and its sister institutions—the Sairamir Campus Markaz and Model Girls' HS School, Hojai observed the Amrit Brikshya Andolan with enthusiasm and zeal.
The institutions are run by Markazul Ma'arif—an NGO which enjoys the patronage of the illustrious Ajmal family.
On this day, Markazul Ma'arif President Dr S.H. Choudhury, a reputed lover of plants in his own right led the initiative as MAEHSS Principal Shamsur Rabb Khan, MMGSSS Principal Asma Rashid and Academic Head of Sairamir Campus Sayed Asif Shahnazwaz flanked by staff and students of the institutions planted saplings in their individual campuses.
Also present at the occasion were Markazul Ma'arif General Secretary Mr Khalilur Rahman Laskar, Project Director (Education) Dr. Razi Ahmad Qasmi and HR cum PRO Saifan Ahmed. Later Markazul Ma'arif President Dr. S.H. Choudhury thanked the government for organising the event. In a statement he said that with the world reeling under severe heat spell, such an exercise is the need of the hour. He said that the event would sensitise the students and citizens about the need to plant trees.
Several students of all the three campuses spoke on the need for afforestation and conservation.